The Perfect Ontario Daycation
– Tuesday 27 March 2018 by Canadian Blog House
Canadian Blog House was invited by Port Hope Tourism to come explore Port Hope and see why it's the perfect destination for an Ontario daycation. All opinions are our own.
Port Hope: The Perfect Ontario Daycation
Looking for the perfect Ontario daycation?
The town of Port Hope, on the north shore of Lake Ontario, is the ideal family fun destination for a day trip – or overnight adventure!
Located along Ontario's Highway 401, only an hour east of Toronto, and 1.5 hours west of Kingston, Port Hope is a small town that packs a big punch!
A Road Trip To Ontario's Favourite Small Town
We love a good road trip, and you'll often find us taking road trips through the backroads of eastern and central Ontario.
Whenever we venture a little further afield, Toronto is often our destination. A road trip like this usually finds us motoring down Highway 401, passing by many small Ontario towns, including Port Hope.
We have driven by Port Hope so many times over the years. Never once have we stopped in to visit this beautiful small town. So glad we finally had the chance to explore Port Hope! We've been missing out on so many great things to see and do!
Ganaraska Forest Centre – Maple Syrup Day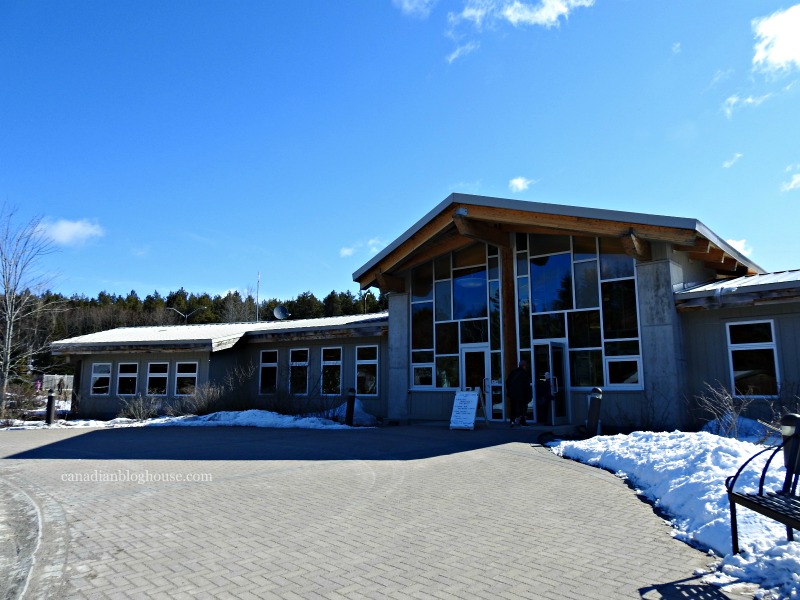 You know a visit to any Canadian sugar bush is perfectly timed when you arrive on "Maple Syrup Day".
St. Patrick's Day was a day to celebrate everything Irish, and everything maple syrup, at our first Port Hope destination – Ganaraska Forest Centre.
Located just a short drive north of Port Hope, the Ganaraska forest, at 12,000 acres, is one of the largest blocks of forested land in southern Ontario.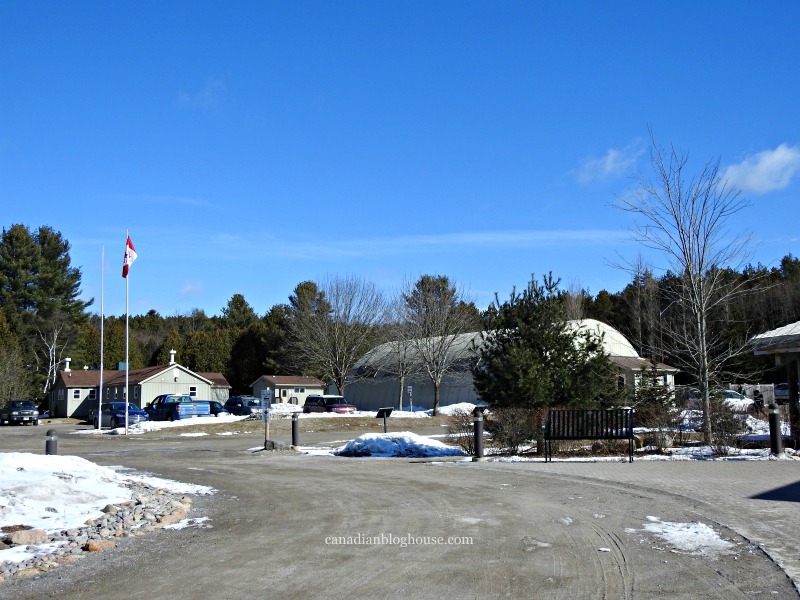 The Ganaraska Forest Centre is a multi-use facility that features "overnight accommodations for over 80 people, and boasts a large Great Hall, four break-out classrooms, a commercial kitchen, and expert culinary staff to look after any group's dietary needs."
The centre plays host to a number of events including weddings, and of course, events like Maple Syrup Day.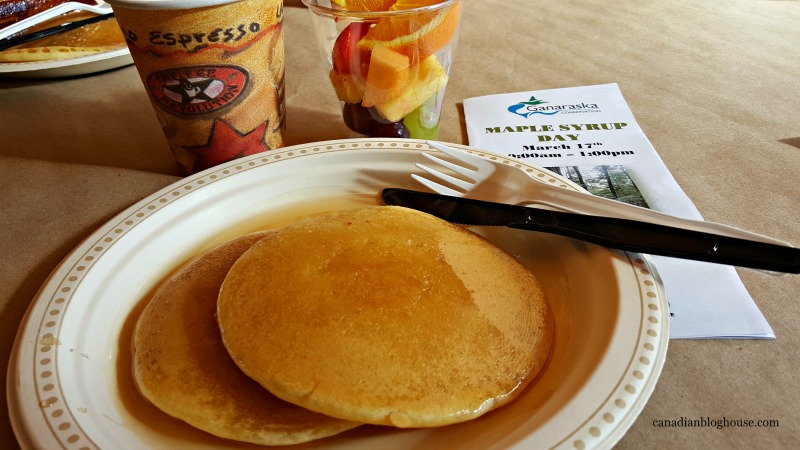 It could not have been more pleasurable to sit down amongst local residents and enjoy a feast of Maple Syrup Day pancakes covered in fresh maple syrup, sausages, fresh fruit, coffee and orange juice. Delish!
As we enjoyed our pancake breakfast, we got to listen to the sweet sounds of this local group of musicians…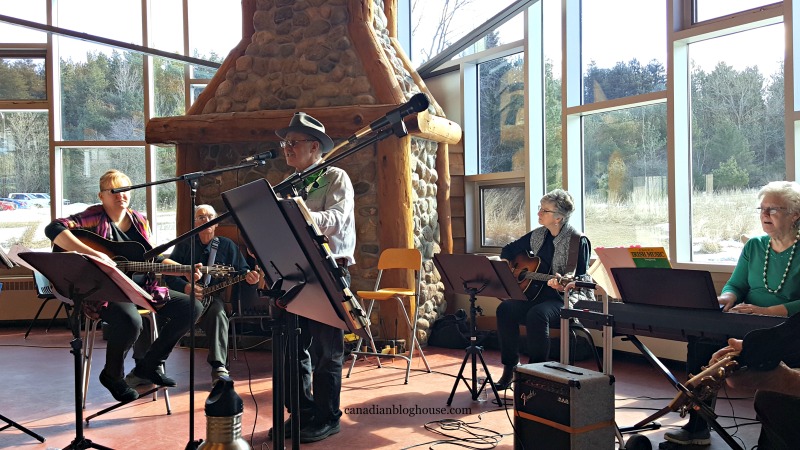 Maple Syrup Day at Ganaraska Forest Centre is a great family-friendly experience, and a great Ontario daycation experience. Not only for the pancake breakfast but, for the fabulous outdoor activities as well.
Families can enjoy some great hikes onsite, including a Sugar Bush Tour where you can learn about the process of collecting sap and making maple syrup.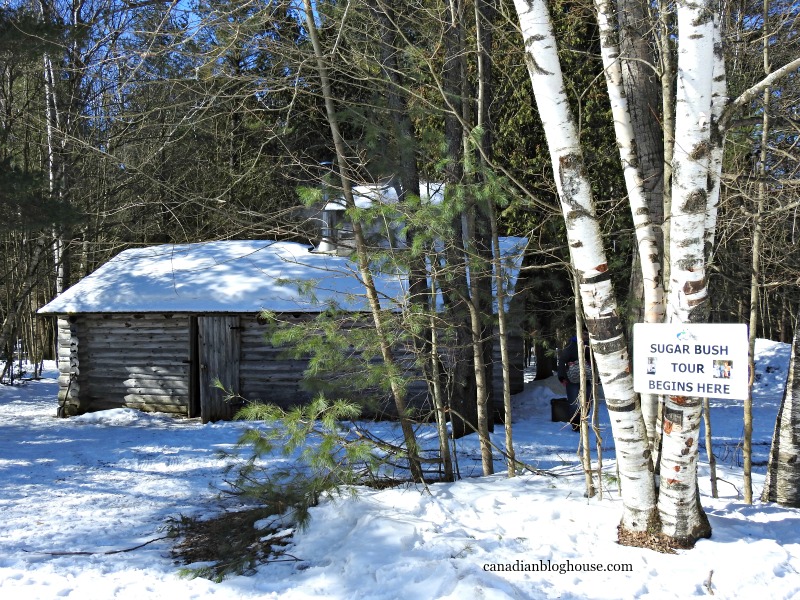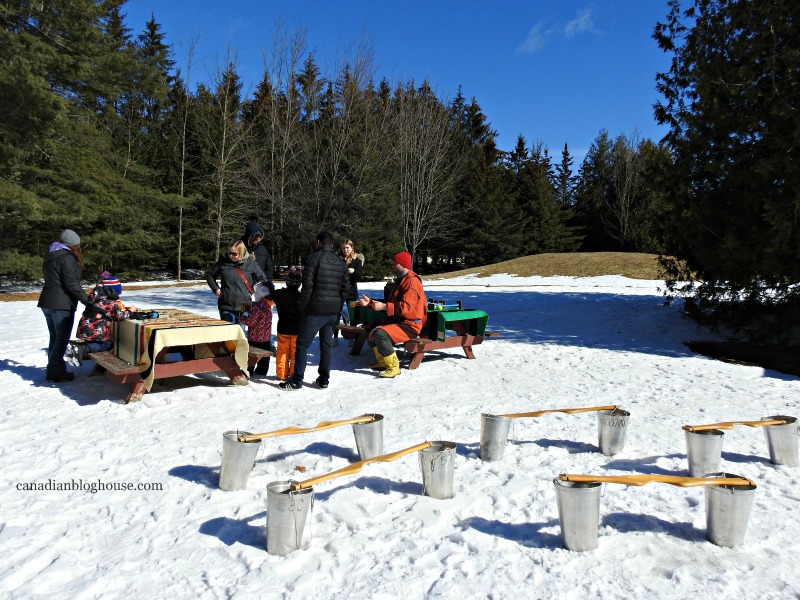 You'll even get a chance to sample the sap straight from a maple tree!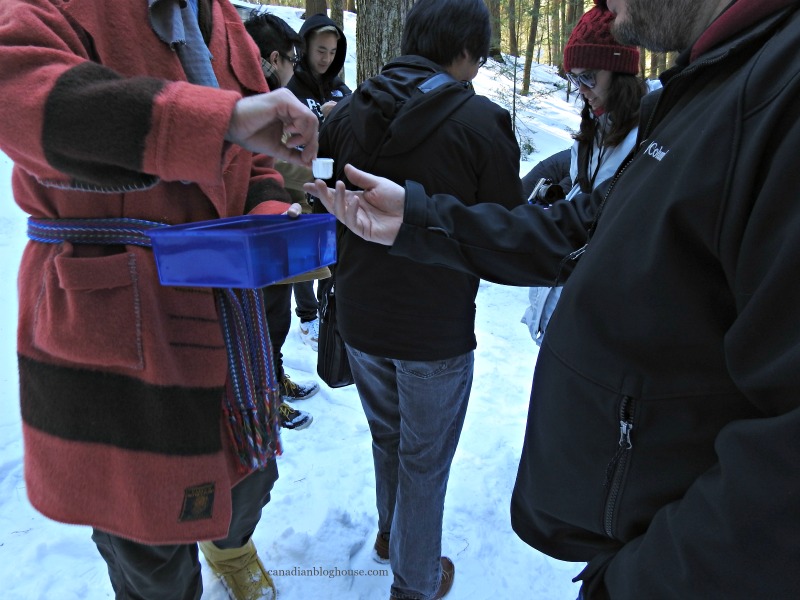 Listen to stories around an outdoor fire, and practice your log cutting skills.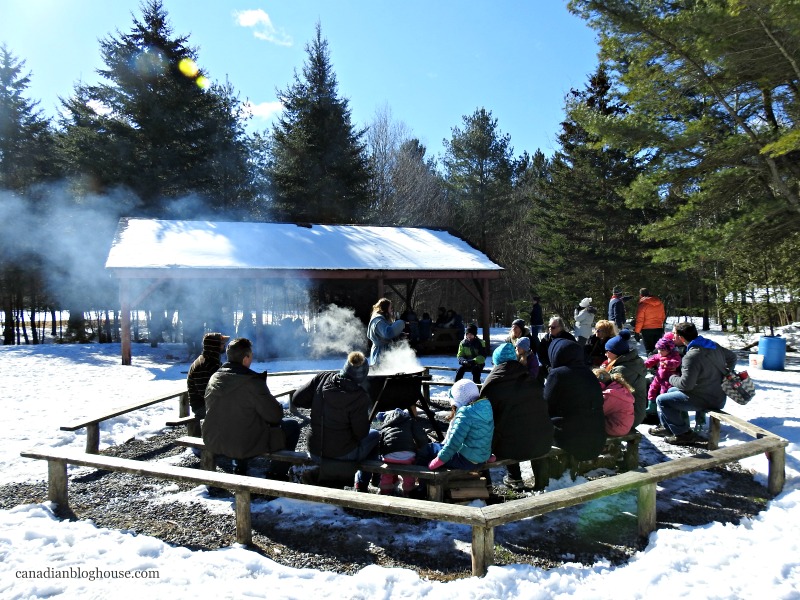 Taking part in Maple Syrup Day at Ganaraska Forest Centre is a great way to get outside, enjoy the great Canadian outdoors, and get your Ontario daycation off to a great start!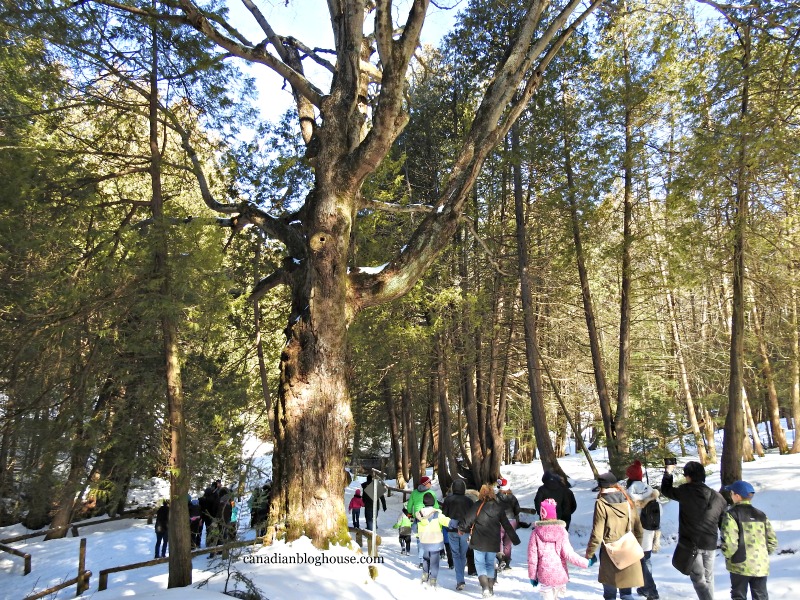 Basil's Market & Deli
Of course, after an abundance of fresh air, and a trek around a sugar bush, hunger starts to set in again. Our next stop was in the heart of Port Hope for a delicious lunch at Basil's Market & Deli on Ridout Street.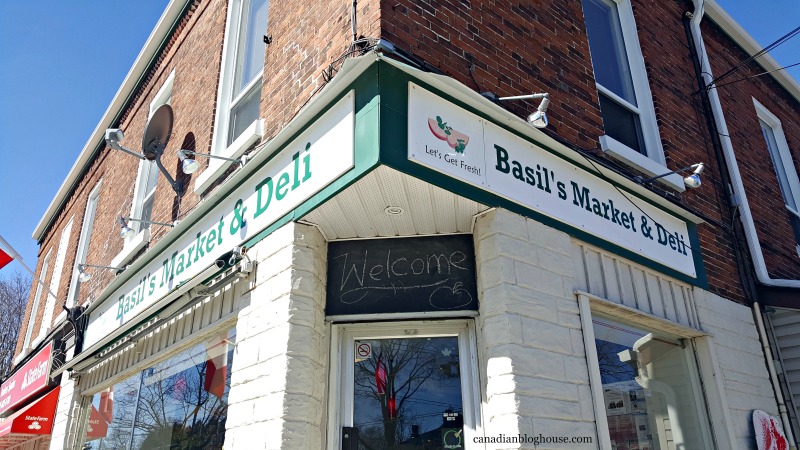 We loved the choice of lunch items at Basil's. I would describe it as "something for everyone".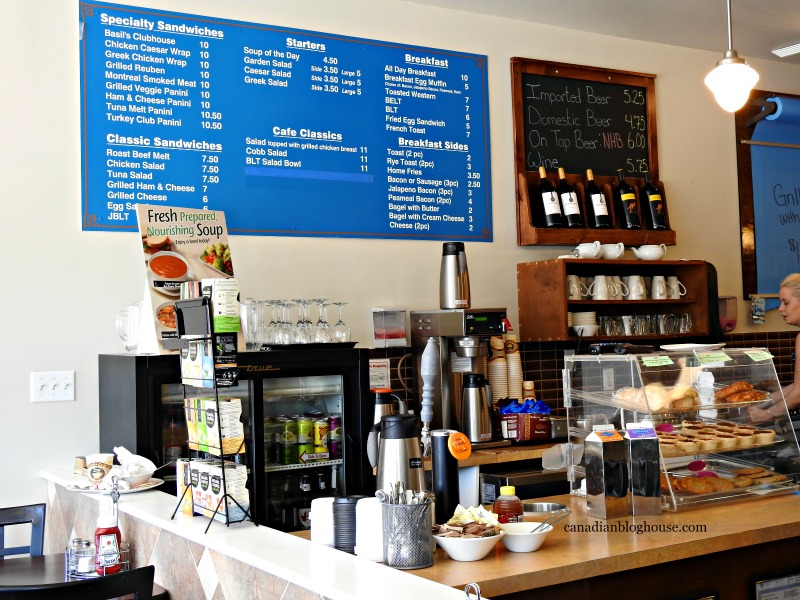 I'm a sucker for a good clubhouse sandwich, and Basil's Market & Deli's clubhouse sandwich did not disappoint. You can see the "freshness" in my photo!
And…look at the layers of meat!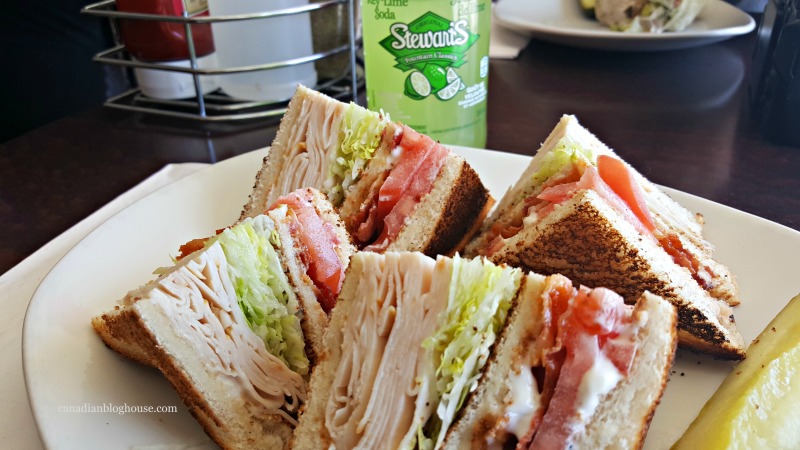 I chose the "Basil's Clubhouse" because of my theory. I figure, if an establishment is willing to put their name on a select menu item, it has got to be good – and this clubhouse was delicious!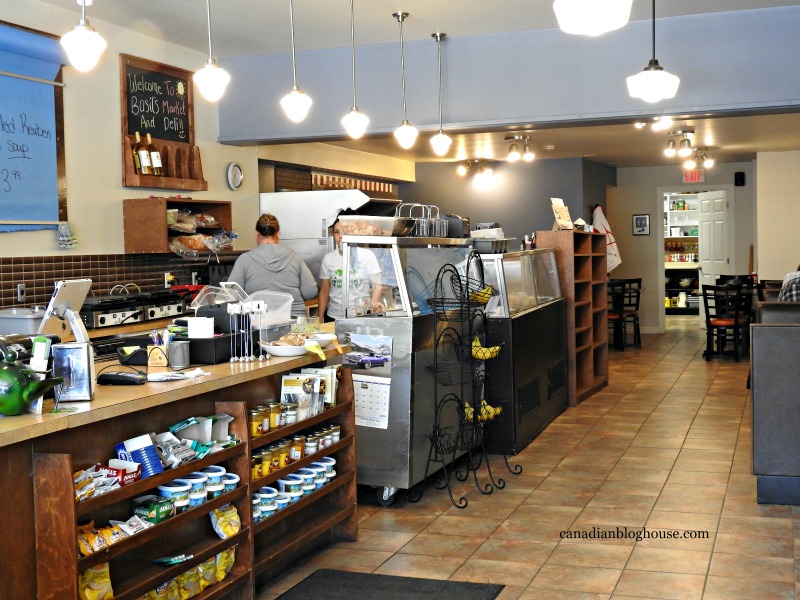 Great staff, great service, a tasty lunch, and the sound of "mmmm's" coming from several of my fellow travellers around me, led me to conclude that this was an eatery worthy of recommending.
This and the fact that, a local resident I spoke to later in the day, raved that Basil's was one of her favourite places to eat lunch.
When the locals recommend something, take notice!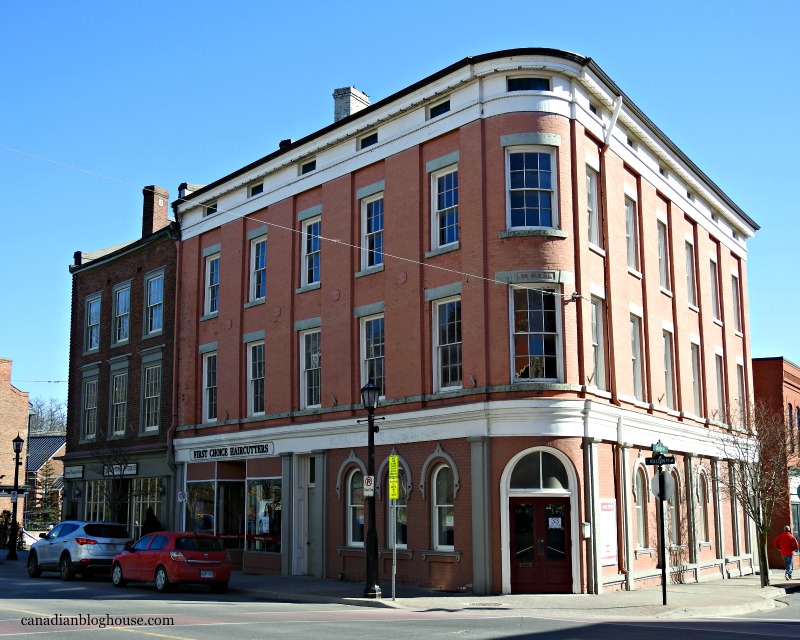 A chance to stroll around Port Hope's downtown core on our own was just what we needed to get to know this beautiful small town a little more intimately.
Port Hope is home to 40+ antique, apparel, home stores, and art galleries. We discovered a thriving downtown Port Hope shopping district, brimming with some great local retailers such as: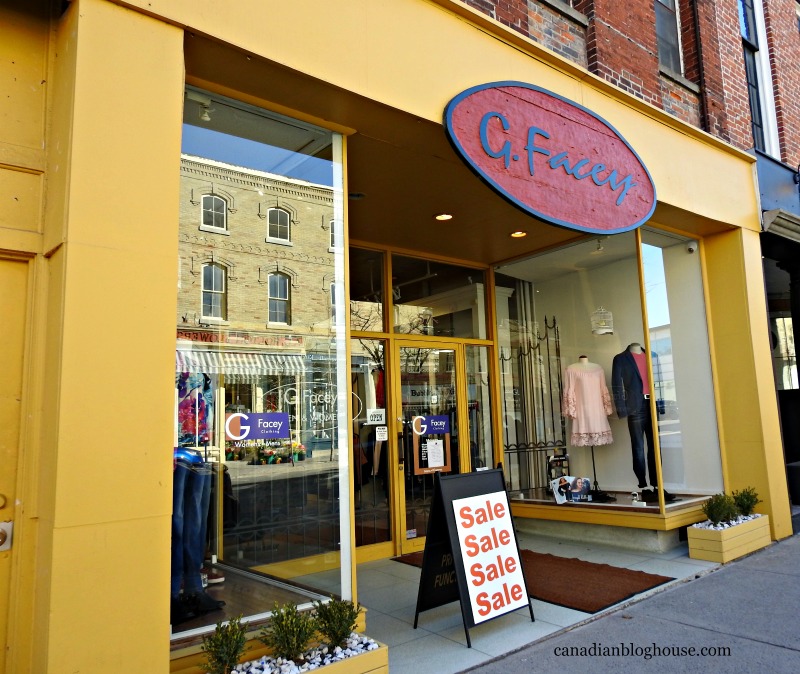 Trattoria Gusto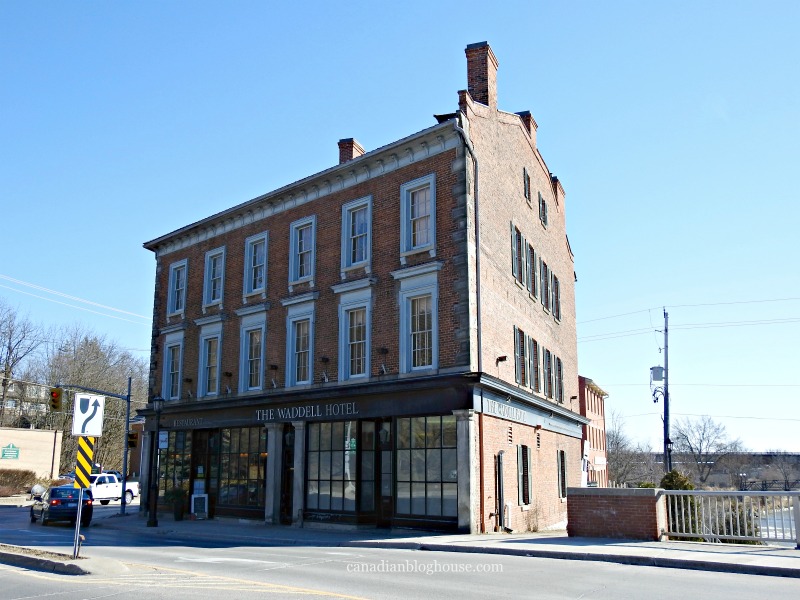 During our time in town, we discovered that Port Hope has a reputation as a top Ontario culinary destination. We came to understand why after eating an outstanding meal at Port Hope's Trattoria Gusto.
Located in Port Hope's historic Waddell Hotel, Trattoria Gusto specializes in fine Italian cuisine.
Fresh bread, with oil and vinegar, and an appetizer of Tomato Bruschetta, warmed up our taste buds for what would turn out to be a fantastic dining experience. We both agreed that the Tomato Bruschetta was one of the best bruschetta's we had ever tasted.
Our meal just kept getting better…with Alfredo pasta…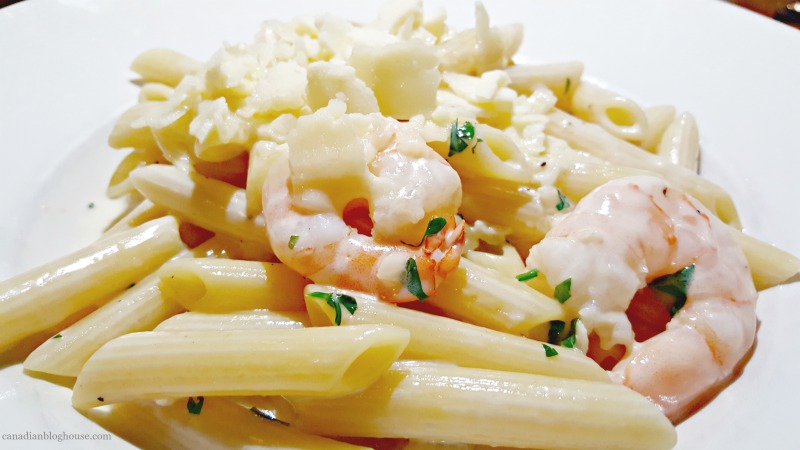 and perfectly cooked steak.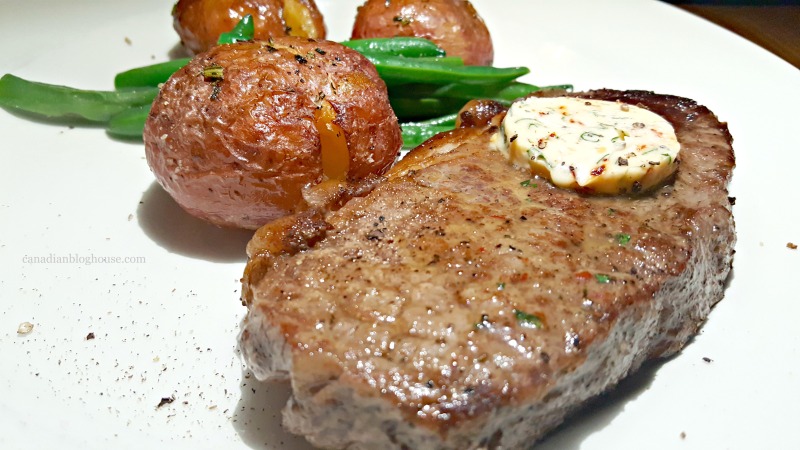 As my mum would have said, this chocolate brownie with vanilla gelato was to die for…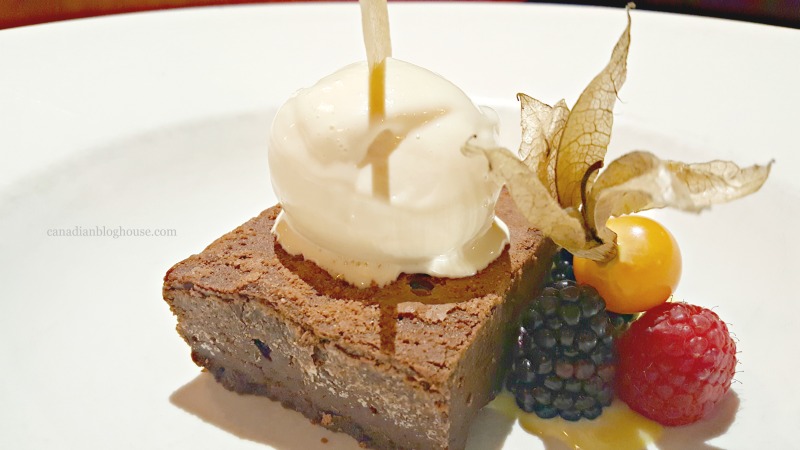 We enjoyed everything we ate at Trattoria Gusto.
Every. Single. Thing.
Don't miss stopping here for dinner if you get the chance!
Summerhill Manor Bed & Breakfast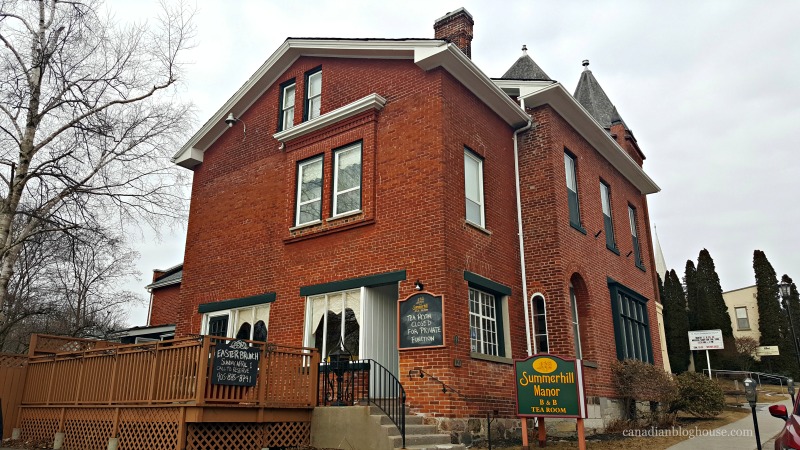 You will feel so relaxed and "at home" when you stay at Summerhill Manor Bed & Breakfast in Port Hope, thanks to owners, Corrinne and Chef Ron.
A truly inviting atmosphere awaits guests at Summerhill Manor Bed & Breakfast.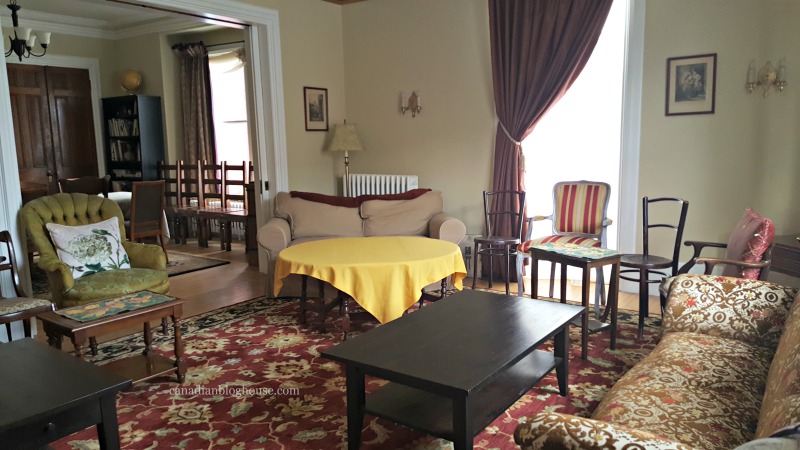 This beautiful heritage home (circa 1852), features "three guest bedrooms, two sitting rooms, a dining area and a Victorian tea room (with patio) serving delicious lunch fare and traditional English afternoon tea."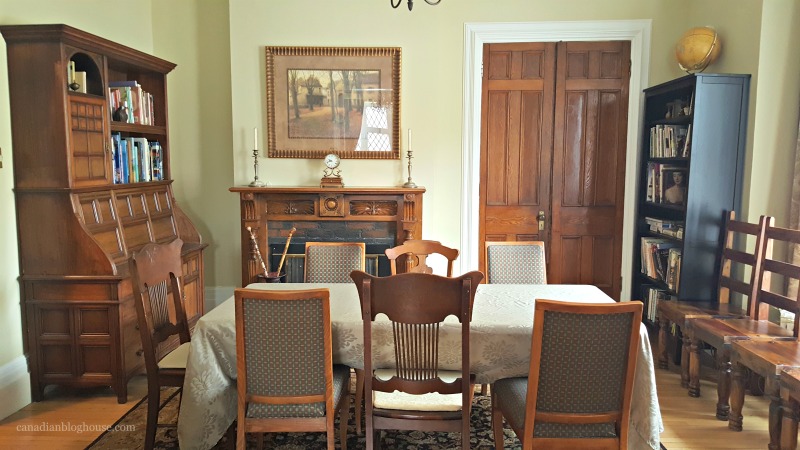 Centrally located on Walton Street, Summerhill Manor B&B is within an easy walking distance of all the shops and restaurants in downtown Port Hope.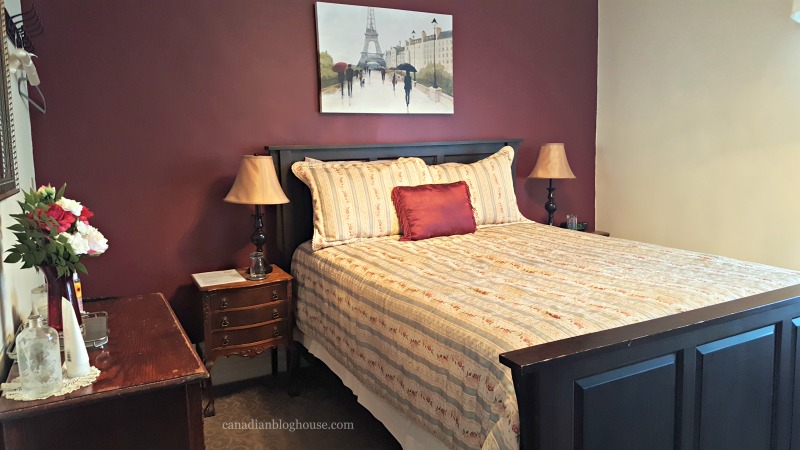 Guest rooms are beautifully appointed, with special attention to detail in the decor, and guest amenities.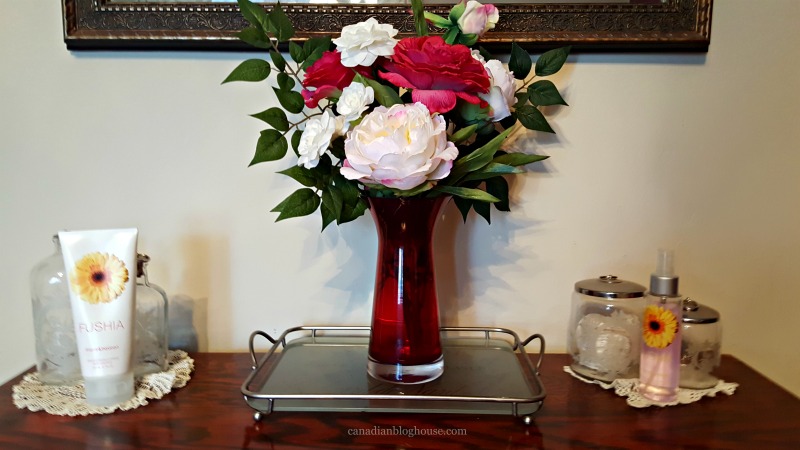 Corrinne and Chef Ron were the perfect bed and breakfast hosts. Very attentive to guests yet, not overly so, Corrinne and Chef Ron gave us plenty of space to enjoy this bed and breakfast on our own.
Their warm and welcoming personalities make guests feel at ease, and they are always available for assistance, should the need arise.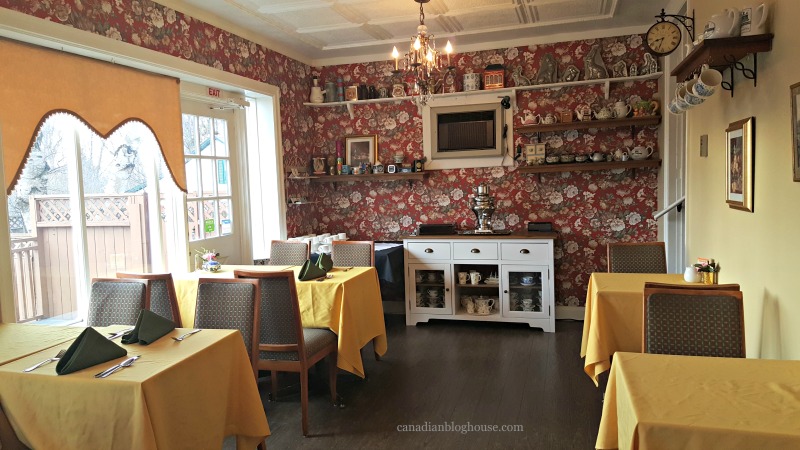 In all honesty, we are usually leery about booking a stay at a bed and breakfast.
We were beyond relieved – and impressed – with one thing in particular, at this Port Hope establishment.
We had our own private bathroom. This is a big thing to us. Some bed and breakfasts make you share a bathroom with other guests. Thankfully, not Summerhill Manor Bed and Breakfast!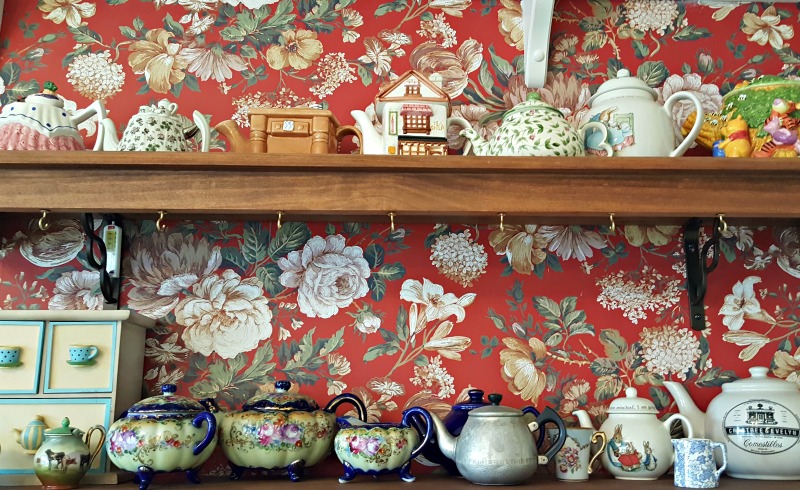 After a refreshing night's sleep, we were served a scrumptious breakfast of muesli waffles, sausages, and fresh fruit, prepared by Chef Ron.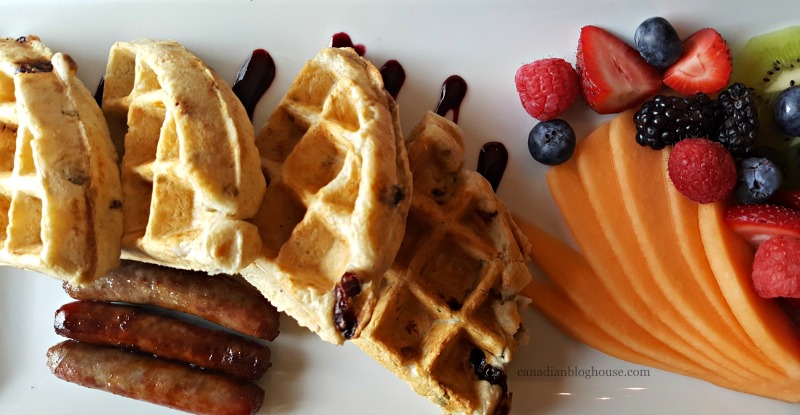 You will not leave hungry from Summerhill Manor Bed and Breakfast!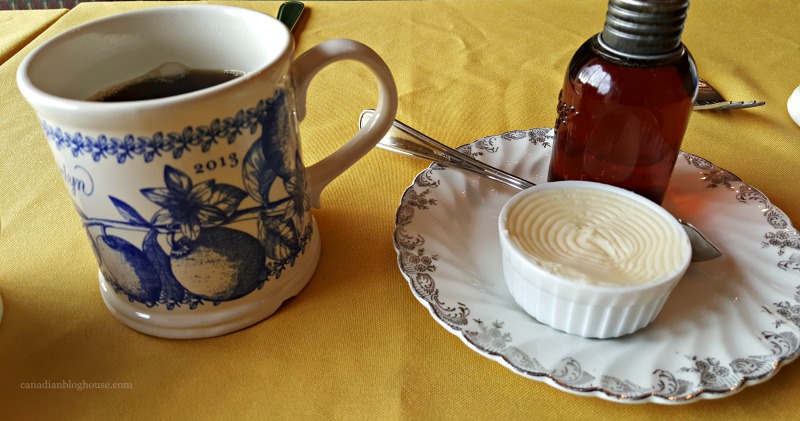 Summerhill Manor Bed and Breakfast is an ideal place to turn your Ontario daycation into an overnight getaway, allowing you time to enjoy all the great things Port Hope has to offer.
Fascinating Facts About Port Hope
Exploring a "new to you" destination is not only fun, it's a great way to learn a little history about the destination, and discover some fun facts.
We learned some fascinating facts about Port Hope during our visit…
The town of Port Hope was originally known as "Ganaraské", an Iroquois name which is now remembered in the name of the river that runs through the town – the Ganaraska.
Port Hope was the proud Recipient of The Lieutenant Governor's Ontario Heritage Award for 2008.
Port Hope was incorporated as a town in 1834 —the first so recognized along the lakefront between Kingston and Toronto.
The annual salmon migration takes place every August through to early October. Witness thousands of Atlantic salmon migrate up the Ganaraska River to spawn.
Port Hope has a reputation as a top Ontario culinary destination.
The Capitol Theatre in Port Hope, a National Historic Site, is one of the oldest restored theatres in Canada.
Port Hope played the fictional town of Derry, Maine in the remake of Stephen King's "It".
Home to "Float Your Fanny Down The Ganny" where residents challenge the Ganaraska River with a flotilla of homemade boats.
Port Hope's "Olympus Burger" was recently featured on the Food Network's "You Gotta Eat Here".
Animal lovers can participate in a "one-of-a-kind experience" in Port Hope – a "goat shmurgle".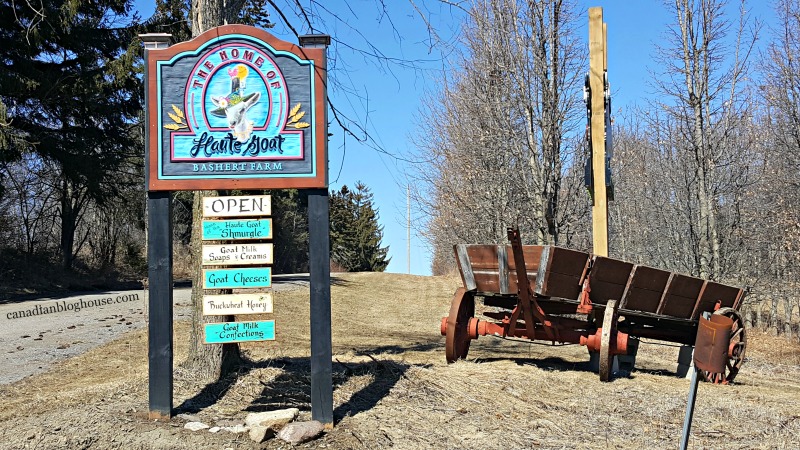 Haute Goat
Speaking of goat shmurgles, if you love animals – and especially goats – you MUST make a visit to Haute Goat, located on the outskirts of Port Hope.
At Haute Goat, browse the beautiful gift shop full of scent-sational goat milk soaps, goat milk artisan goodies, goat milk skincare products, books, alpaca knitwear, and other beautiful giftware items.
Haute Goat offers a great variety of fun and interesting workshops, such as the ever popular goat yoga. For those of you who just can't get enough of Haute Goat, you can even spend a night or two at their AirBnB!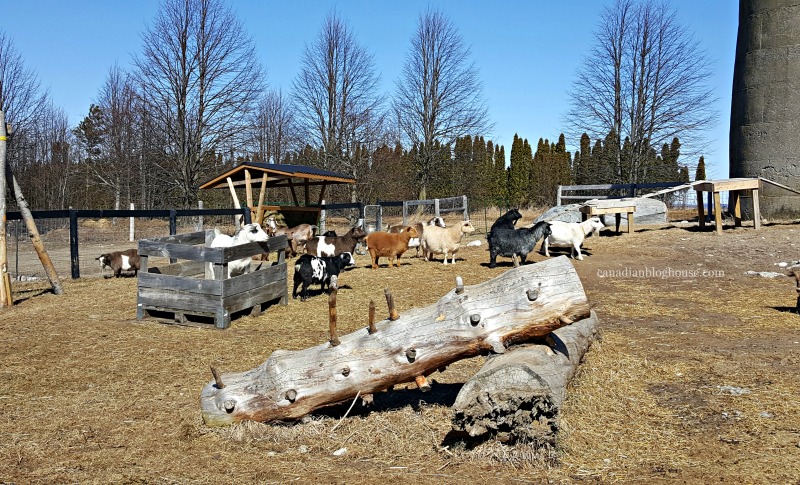 But of course…goats…so many adorable goats!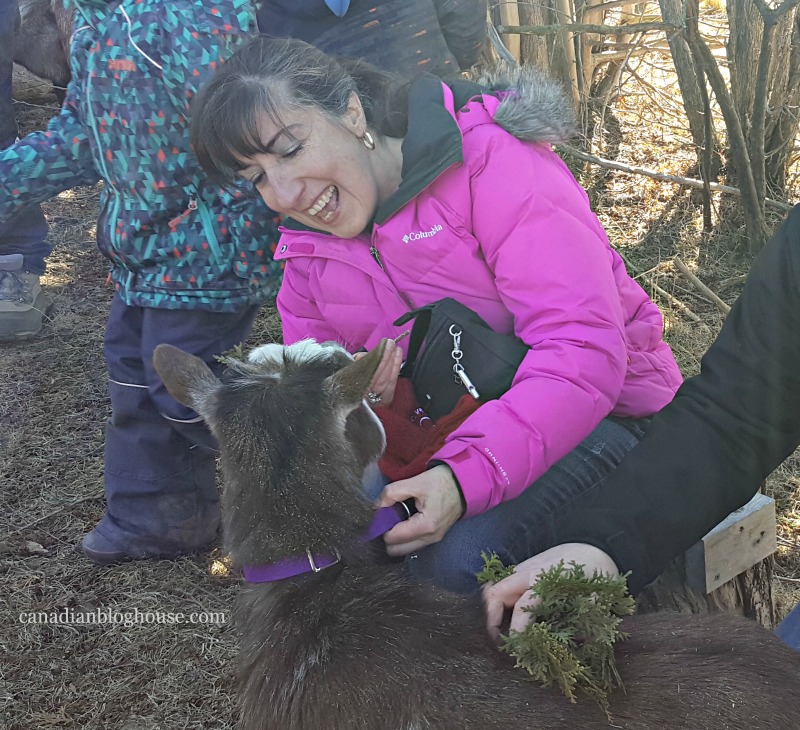 And I got to shmurgle with them all!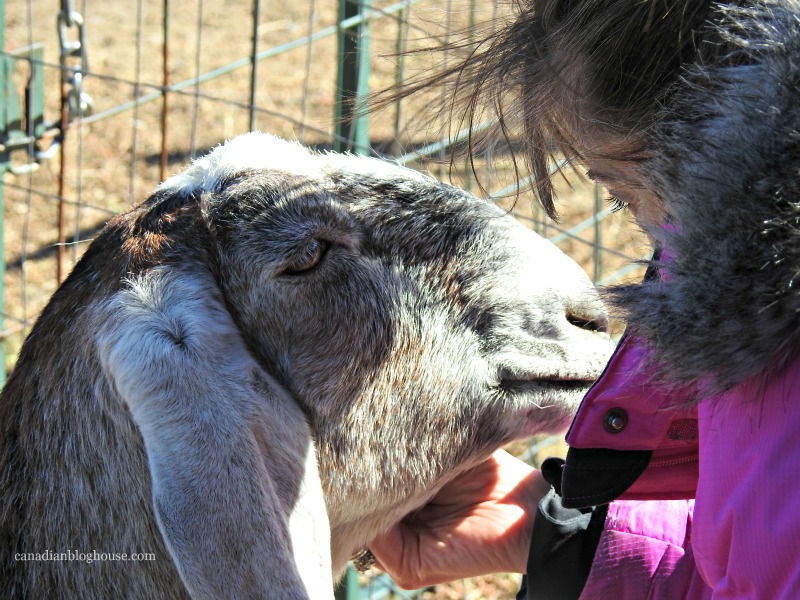 A visit to Haute Goat also gives you the chance to meet Debbie, co-owner, and the "heart" of this farm. Warm, engaging, and fun, Debbie may have won me over even more than the goats. In fact, she did…and that says a lot!
It was a quick trip but, we thoroughly enjoyed our Ontario daycation to Port Hope! We sure hope to get back to this great region again soon.
Because, of course, I need more goat shmurgling in my life!